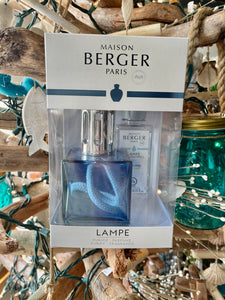 The Blue Lamp & Ocean Breeze Lamp Gift Set with its unique geometric shape and sharp lines, brings originality to your interior. A timeless blue color that reminds us of water and combines perfectly with the Ocean Breeze perfume, for a floral and marine atmosphere full of serenity.
Ocean Breeze: The sweet rose combines with sparkling bucolic notes of blackcurrant and aromatic basil. Then, the sweet accents of freesia intertwine with the chords of lily of the valley and the delicate tenderness of the lilac. Finally, the woodiness of patchouli merges with amber heat.
This fragrance full of freshness is authentic, you really have the impression of sea air in your home.